The Wisconsin Department of Natural Resources (DNR) has awarded a Brownfields Grant to the City of Beaver Dam to assist with the investigation of potential environmental contamination at the site of a former auto dealership and repair shop.
The grant is from the DNR's Wisconsin Assessment Monies program, which provides contractor services worth up to $35,000 for the environmental assessment of eligible brownfields sites.
Brownfields are abandoned, idle and underused commercial or industrial properties where reuse is stalled by potential contamination. Brownfields vary in size, location, age and past use; they can be anything from a 500-acre former automobile assembly plant to a small, abandoned gas station.
The awarded grant will support the environmental assessment of a 1.6-acre site at 109 Ryan Cantafio's Way, where suspected environmental contamination is related to a former full-service automobile sales and repair facility.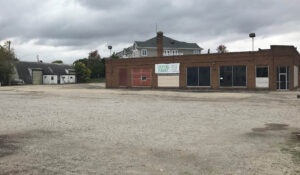 "Conducting an environmental assessment of this commercial site brings the city one step closer to realizing a revitalization of this downtown site," said Jodie Peotter, DNR Brownfields, Outreach and Policy Section Chief, Remediation and Redevelopment Program. "The DNR applauds the city's decision to acquire this property."
From the 1950s to 2004, the site was the location of an auto dealership and repair facility, with hydraulic lifts and petroleum tanks on site. An asphalt parking lot covers historical soil contamination; contamination is also suspected under the building due to the nature of the businesses that once operated there.
In 2018, the city acquired the property from Dodge County to promote economic development and reduce blight downtown. A proposed mixed-use development plan for the site includes condominiums, apartments and commercial space, with underground and surface parking.
Since 2009, the DNR's Wisconsin Assessment Monies program has provided nearly $2.8 million to 70 communities across Wisconsin, partnering to help clean up and redevelop often run-down or underused properties that detract from a community's potential. Applications for assistance may be submitted to the DNR at any time.
The DNR has a wide range of financial and liability tools available to help local governments, businesses, lenders, and others clean up and redevelop brownfields in Wisconsin, including Ready for Reuse financial awards, which may be used for environmental cleanup. DNR staff around the state are available to meet with community leaders, bankers, developers and private individuals to discuss brownfield projects through Green Team meetings.
More information about the DNR's brownfields cleanup programs and services is available on the DNR's brownfields website.
(Visited 122 times, 1 visits today)